Since childhood we have always seen our mothers taking care of the household. No matter if she's working full time or not, mothers tend to be more responsible towards making the house – a Home! That is how we as kids begin to learn responsibility. Whether it be filling the bottles of water in summers and keeping them in the fridge or cleaning home during the Diwali season, kids become the perfect partners in taking care of domestic chores. But there's an internal fear of always making things more dirty or spilling things by mistake. What if we tell you that you can just get rid of that fear?
Ceramic Tiles for Kitchen
The recent years have seen more and more people getting bored of their regular white walls and experimenting with different styles, tiles and patterns. Ceramic is one such new addition to the 'experimentative' culture. Not only do these walls provide a different texture to your home, but also their easy-maintenance allows you to never fear making it dirty again.
Ceramic tiles are beautiful mixtures of clays and other natural materials like sand, quartz, or water that combine to produce lovely tiles. These can be used extensively in houses, restaurants, offices, shops, workspaces, and much more. Reasonable prices, easy-to-fit, maintain and clean are some of the features that make ceramic tiles a very popular choice, especially among kids who have the tendency to stumble. Not only this, the addition of ceramic tiles into your kitchen makes it a perfect staycation, where you can work, and experiment with your favourite food and more.
Your Favourite Staycation!
Why do we call it that? Because you'll be transforming your home & kitchen into a place where you don't need to put any effort in cleaning anymore! Most recently the easy-to-clean quality of ceramic tiles has made it a popular choice for the kitchen. A good kitchen is one that can wash off all the oil spills, coffee stains and food marks easily off the surface. Ceramic wall tiles are handy for that very purpose. Individuals, commercial spaces like offices, PG's, Restaurants and more have begun to put in their trust on these tiles for cleaner surroundings. Not only are they easy to clean but also provide a premium look that helps enhance the overall aesthetic appeal of the place where you cook. Ceramic wall tiles are detailed to perfection and suit the needs of many.
Whether it be a brick kitchen, a cement one, modular, hexagonal design, marble look, stone kitchen or subway, or any other, ceramic tiles for kitchen are known to give the desired outcome to the space of your choice. And if you are someone who's looking for a ceramic tiles company in Mumbai, then you are in luck. Timex Ceramic has launched its premium range of ceramic tiles for the kitchen that would not only leave you in awe because of its aesthetics but also easily usable, cleanable and not spoilable. We won't be overdoing it if we say that these tiles are known to transform your home!
If you are confused about what type of tile is best for your kitchen wall, then worry not! Here are a few examples of product categories under the Timex Ceramic range, which will help you choose the perfect tiles for your kitchen walls:

Special decorative collection with exciting shapes that creates interesting and striking designs. Bondi Arabesque is a 150mm x 150mm ceramic tiles range known for its attractive designs. The beauty of Bondi Arabesque comes to life with its highly glazed and intensely coloured range. Unorthodox designs can be easily installed and have the ability to lift any scheme up to another level. The combination of a traditional Bondi Arabesque along with a bold colour palette remind us that tiles have once again, the power to inspire. Get the fancy interiors with attractive backgrounds!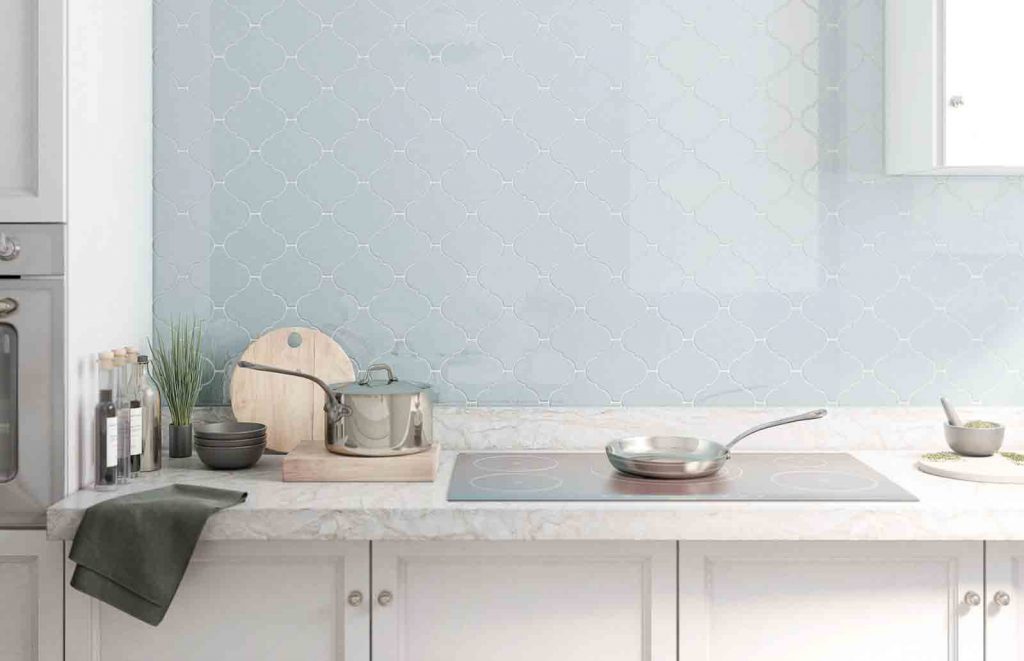 Just like Bondi Arabesque, The Bondi Fan is another shape that adds an attractive look to your kitchen& other part of your home. In current times these Bondi series is getting popular for kitchen décor. This series have Fun, Cheerful colours is being used in variety of spaces from feature walls in living rooms, splashback in kitchens to adding colour in bathroom. These white body tiles in 7-different colours are an ideal choice for your kitchen, as well as your bathroom. Moreover, this series comes in 134mm x 150mm size and it's Made-in-Spain. These timeless tiles have water absorption capacity along with flexion, thermal-shock, crack and frost resistance which adds to its unique proposition. Hence Bondi tiles are the first choice for kitchen décor.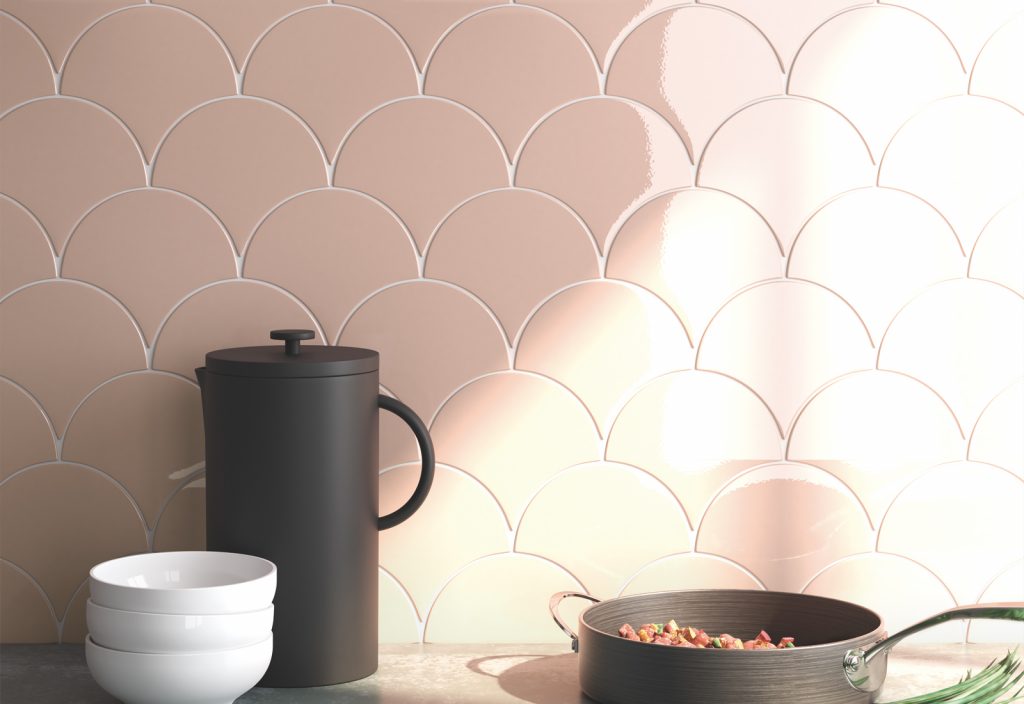 A unique collection that extracts the beauty of precious stones. Gemstone is the color, details and an unmatched personality with an extensive range of colors in small format that gives worlds of possibilities to decorate your home. Gemstones are the new popular choice among many for Ceramic Tiles for Kitchen. With its glossy finish, it provides an enticing look to both classic and modern kitchens. Gemstone is Scratch-resistant, liquid glass coating on the surface, and unique surface makes these ceramic tiles less porous with a vibrant appeal, which is suitable for other areas of your house as well. These 75mm x 300mm tiles are reliable, strong and durable.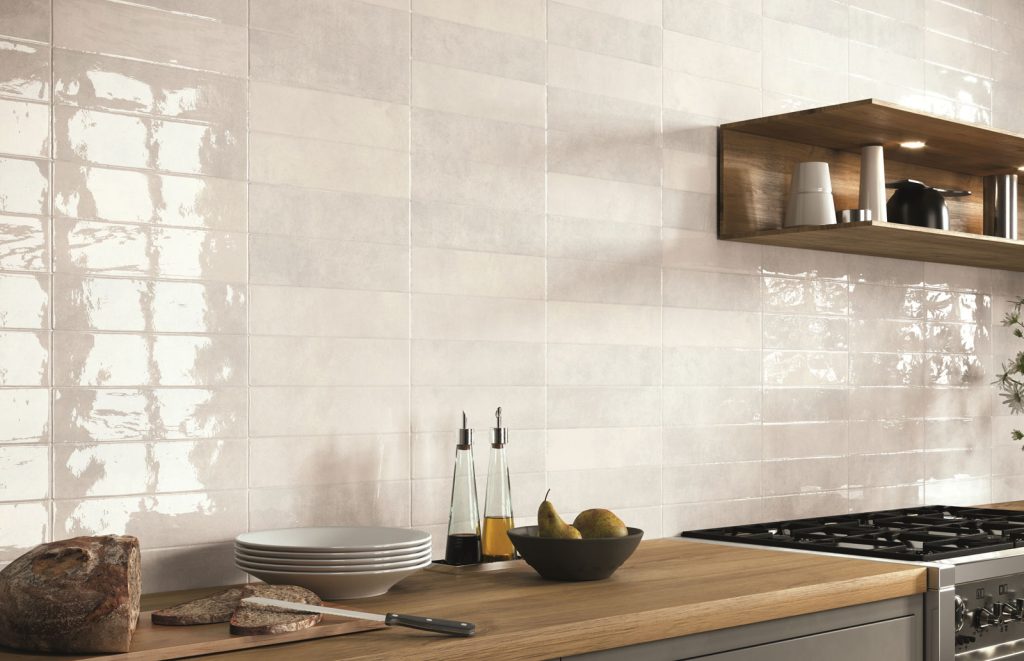 The name Heritage is testimony to what these ceramic tile series aims to achieve. A great complement to the likes of cement stones, veneers and others, heritage range combines with these to create unique volume and design in each tile. 900mm x 300mm in size, these trendy colours add character to the Kitchen. Be it the green, blue or white, each Heritage Tile brings about uniqueness to the room with a neutral finish and aged edges.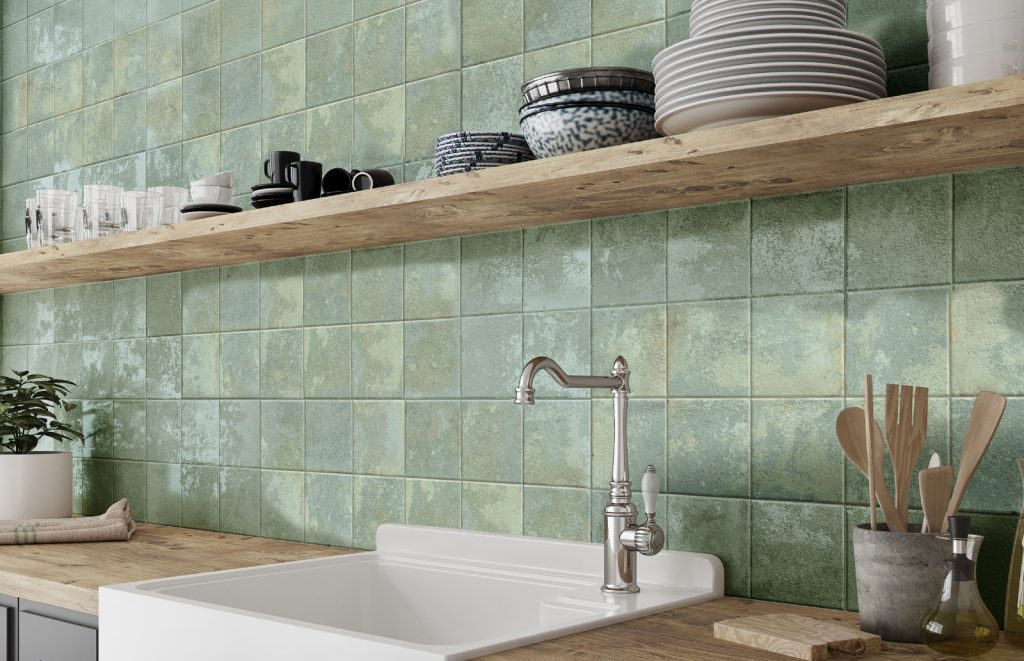 Let yourself be inspired by our stylish product. Be creative and cheer up your walls and floor with the always trending hexagon tile (Meraki Series). This Meraki is our unique and creative range that allows client to become more creative while decoring home with many possible option and creative concept of placement. There are many advantages of choosing this tile for decoring your kitchen. Some of them are stated below:
Look Sensational & effectively elevate your interior design.
Meraki is porcelain tiles, so they are also very durable and hard wearing.
Suitable for any style you may have in mind, no matter how bold or subtle.
Suitable for both wall & floor coverings.
Endless mix & match opportunities with décor models.
Hence, brighten up your space with MERAKI hexagon tile.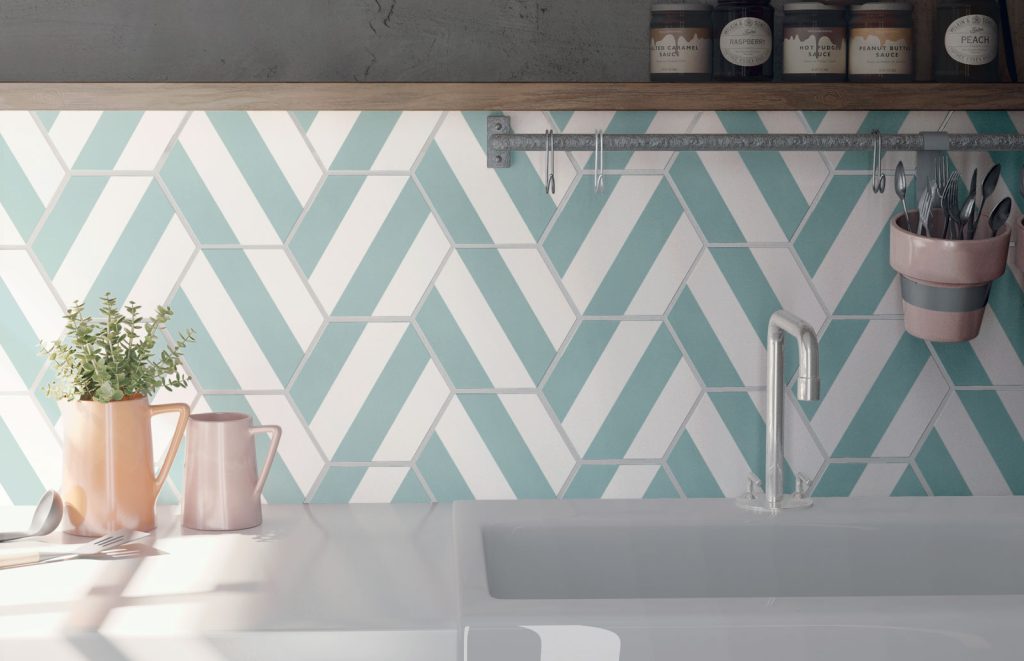 Are you looking for attractive colours and unique pieces? Iqono with its harmonizing tone variation with irregular glossy surface reminds us of the handmade finish. 200mm x 400mm in size, Iqono range gives the combination of fresh colours and energetic impact. A glossy surface and handmade finish of Iqono comes in 9 attractive colours. Be it Green, Bordeaux, Citron, White & Oliver each variation helps grab the eyes of people with simplicity and style. The new series IQONO shows that it's possible to create everyday objects that enhance interiors with fresh impact to atmosphere. It's something worth embracing today!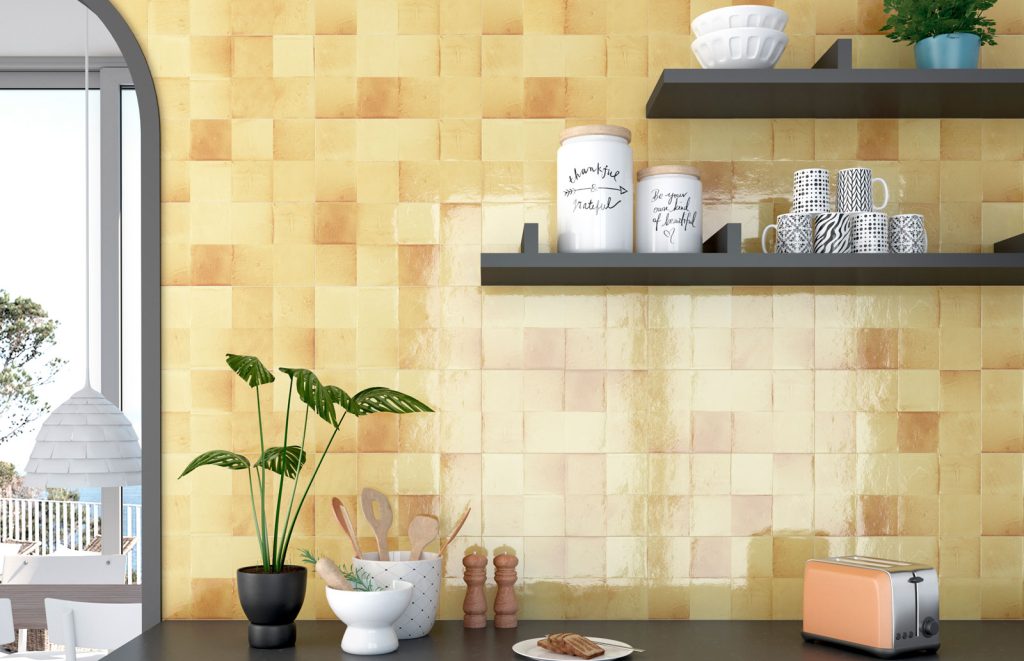 Elegance at its peak. Mandala provides a contemporary look to your place and uplifts the vibe, completely. With Matte finish, vivid patterns, multi-coloured hues, Mandala is known to add glamour to any interior, especially when it comes to your kitchen walls. The colours in the Mandala series of ceramic tiles do not fade away even if it is exposed to harsh conditions like direct sunlight. These square 200mm x 200mm tiles are full of advantages like they help you in keeping your kitchen space fresh and hygienic. They exude the surroundings with a welcoming aura. These tiles are fireproof at any temperature and do not emit toxic gases. They are even resistant to harsh chemicals.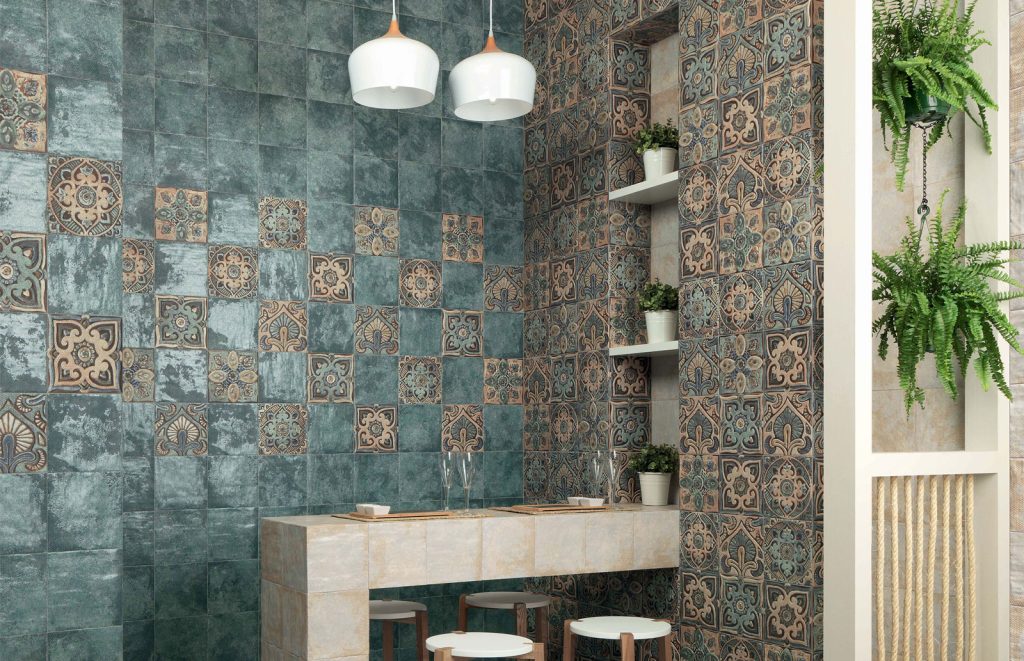 Most of us often complain about monotonous designs in our homes. The large-format subway tiles named 504 are specially crafted to cater to your complaints. With hexagonal and honeycomb designs, easy fit and variety of available shades, these ceramic wall tiles become an ideal choice to add some actual spice to your kitchen walls. Imported wall tiles with a stunning contrast of crème and thin ribbons, this 600mm x 300m collection of tiles provides a sturdy ceramic look in your favourite colours – white, blue, and grey. It is composed of toxin-free raw materials, and is durable, compatible and reliable. 504 concept ceramic wall tiles radiate a soothing presence, without succumbing to extreme conditions. This hexagon tile features soft brush stroke patterns, inspired tones that are set amongst an off-white base glaze. These resilient tiles safeguard your walls against any scratches, and stains and they are also water resistant. Thus, it requires minimal to no maintenance during its life.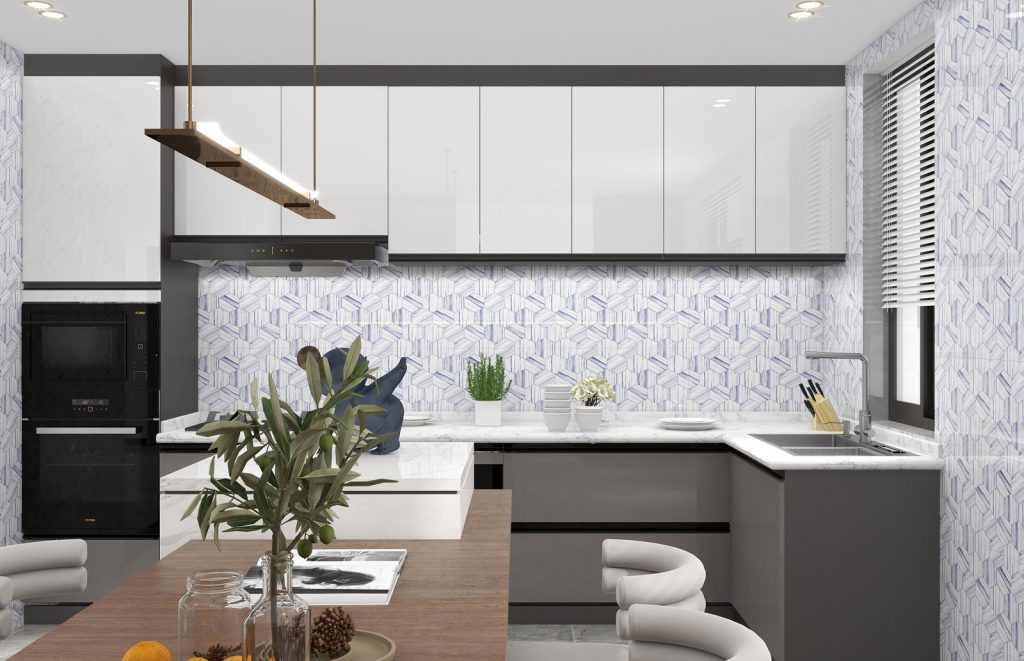 Composed of the grey and beige patterns to enhance the neutral look into an aesthetically pleasing one. Shiny look for your kitchen wall, this 600mm x 300mm ceramic tiles add character to your home. Simplicity, unpretentiousness, and grace, 228 ceramic wall tiles are hassle-free decorative tiles which help enhance your personal space to its best. A great choice for an effortless decor!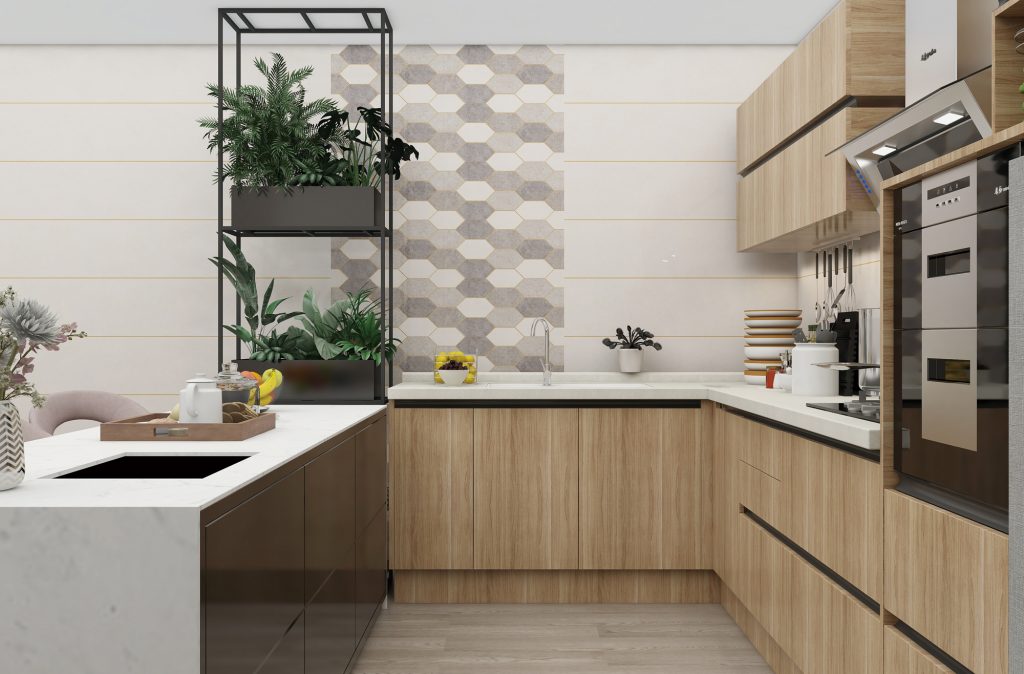 Give your kitchen a welcoming look!
So why wait for a holiday to begin? Bring home the best ceramic tiles in Mumbai for your kitchen walls and transform your kitchen into a lively place with Timex Ceramic, the best ceramic tiles company in Mumbai. For Project Enquiries, you can connect with us on Email ID: info@timexceramic.com or on Call/WhatsApp on +91 93237 77787