We live in a world of social media where every day has an #OOTD (outfit Of the Day). As days change, so do our dresses, our appearances, our accessories and more. Then why not your Bathroom? Bathroom is a space that is very personal to us. Some get the best ideas sitting in the loo, and others implement the best ideas on it! We prefer the latter!
Yes, you heard it right! Gone are the days where you have to adhere to the traditional and retro designs for your bathroom. Why not change the changing your bathroom with modern designs, contemporary ideas of ceramic wall tiles. Yes, ceramic! So, you can get inspired from fresh designs, amazing aesthetics and engaging patterns. Known for its easy fitting and cleaning features, & attractive glossy & matt charm of Ceramic tiles for Bathrooms are an easy formula to give a great aesthetic look to your favourite room.
Upgrade the look of your bathroom!
Bathroom is a place where you can relax, refresh and now also enjoy the interiors with the help of beautiful ceramic tile designs. Ceramic tiles for the bathroom are an excellent choice because they not only add depth through texture but also make it more pleasant and make you want to spend more time with yourself. Be it the ceramic floor tiles or ceramic wall tiles, the ceramic tiles for the bathroom are known to make your bathroom experience a more pleasant and wonderful one.
It is not we who say it, but people are. People who've tried to use ceramic wall and floor tiles have been constantly talking about how re-doing their bathroom actually changes the vibe of the place, and helps them lead a happier day. If you are confused about which tiles design or patterns will be the best for your bathroom makeover, then worry not! Because, we at Timex Ceramic, as your favourite ceramic tiles company in Mumbai, have a wide variety of range that will help you choose the best option for making your bathroom elegant.
Asphalt is a casual and very versatile concept that provides a touch of challenging modernity, a fusion between nature and architecture. A totally different concept is the Tropical model of this series. Printed on a stone effect background, the décor becomes a subtle and pleasant mural to bring a note of color to the space. This 400mm x 1200mm matt finish ceramic tiles will give you nature charm to your home bathrooms.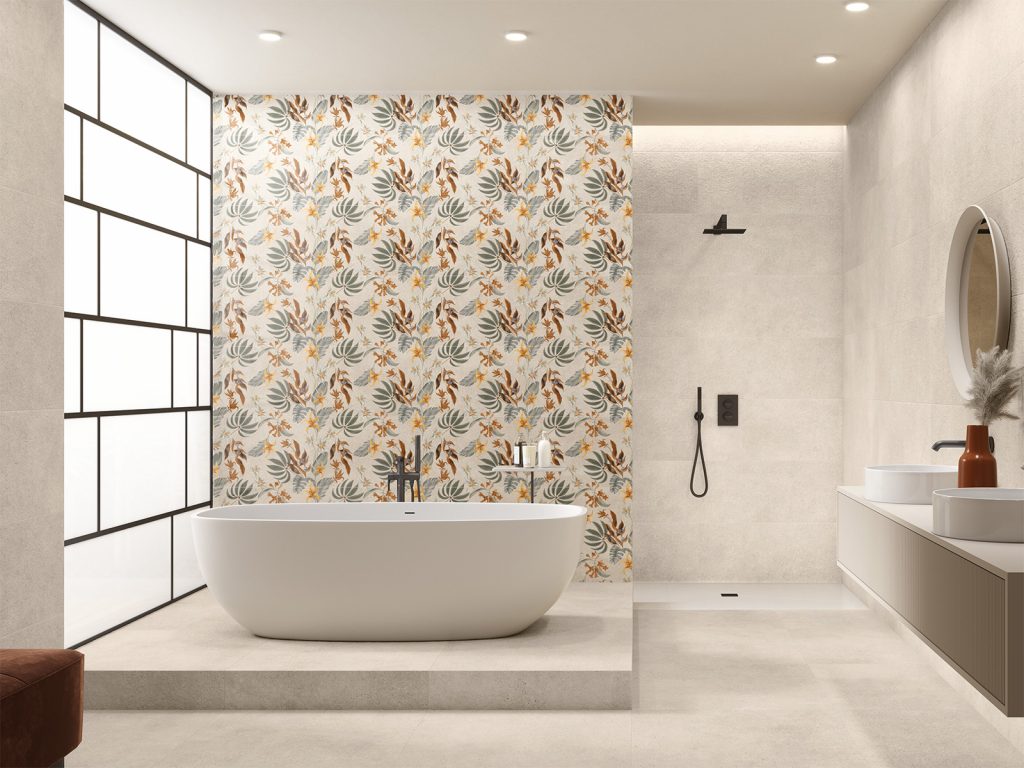 This 300mm x 100mm size polished tiles with attractive looks that will help you paint your walls in your own style. Bellagio has its own beauty in variety of colour range that will allow you to choose best combination to decorate your bathroom. In addition to this,The two décor of this range makes it more attractive and give your bathroom elegant and royal touch by its glossy charm. Furthermore, itattracts you towards the smooth and shiny texture & helps raise your interior-appeal to the next level. The style and texture of Bellagio resembles beautiful landscapes which help add a natural consistency to your bathroom.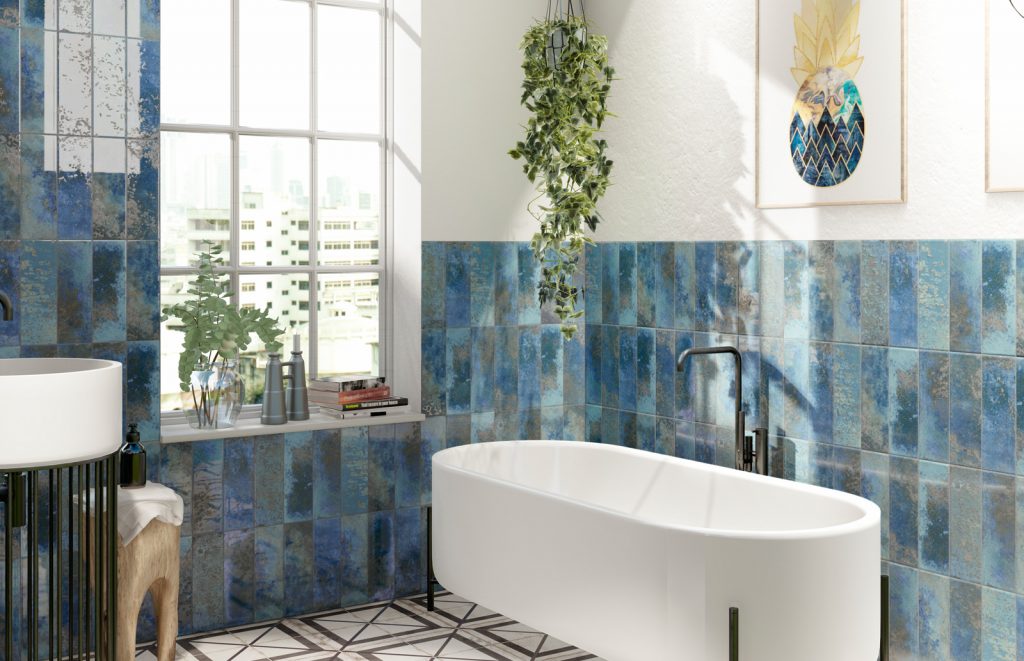 Perfect fit for indoor designs, Iggy ceramic tiles are a perfect answer to luxury and comfort. The Iggy Nora range helps you choose from a variety of patterns & designs that enhance the beauty of your bathroom. With Shiny finish and 150mm x 150mm size, simplicity and elegance is a perfect answer to your bathroom transformation needs. It portrays actual luxury with its variations of colours such as pink, Pergamon, mint, and sky. The real beauty of this tile lies in its simplicity and versatility. It can be fixed both horizontally or vertically and works well in the bathroom environment. You can further add the special 3D 'Iggy' feature on a bathroom feature wall.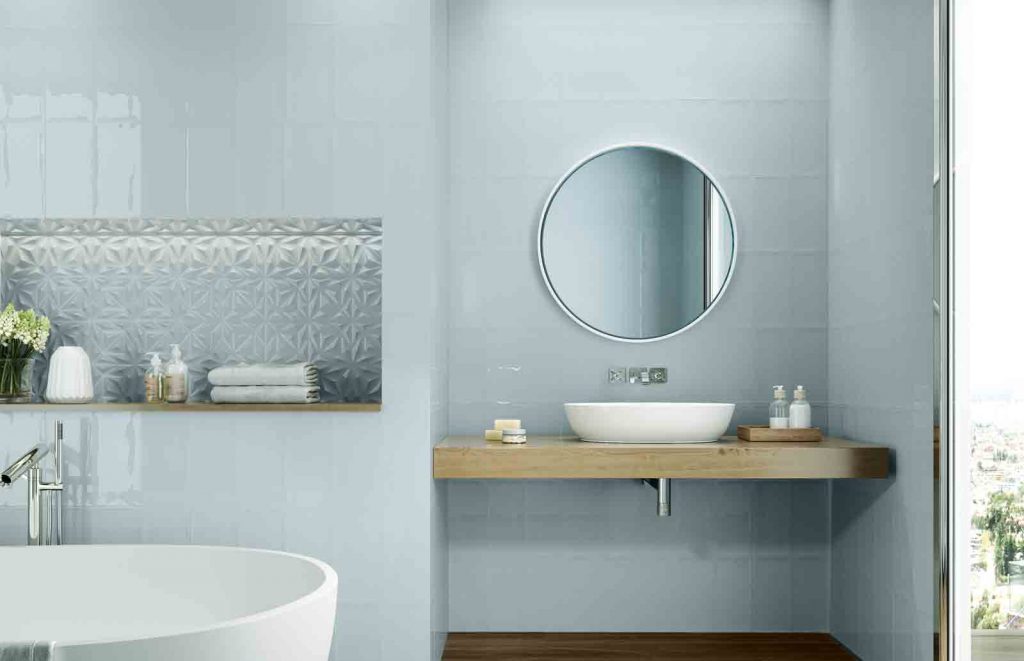 Rockwell tiles are rustic in nature and help you feel closer to your home and one with nature. Available in four different variations and matt finish, Rockwell designs are incomparable on the texture they provide. Rockwell Avra a piece that stands out for its geometric shapes that, accompanies by its relief and gloss and matt effects, gives you harmonious and balanced sensation.400mm x 1200mm size, this ceramic tile has a natural look and feel to it. Available in Beige and White Variations, the sturdy, rocky and natural look. An Ideal composition that conveys elegance and well-being.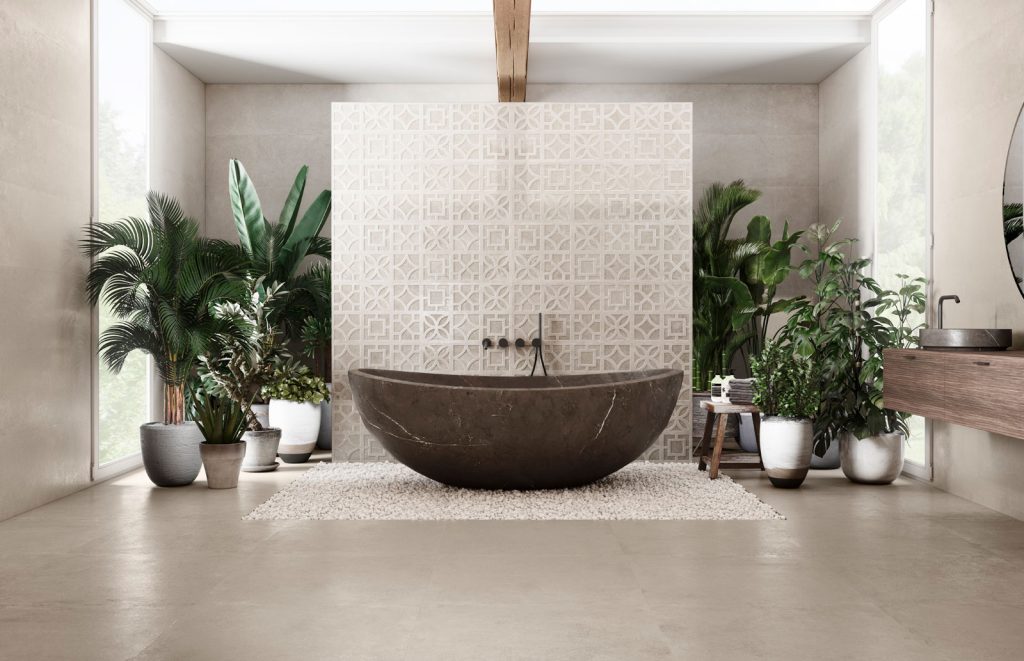 When you are looking for an even style and smooth-matt finish, there can be no better choice than Ardesia concept tiles. These stone-textured tiles with a strong personality and pleasant aesthetic appeal help your bathroom gain a pleasant and natural looking ambience. It's available in the shades of Beige and Grey with variations of Avorio & Cenere in tilt, flagstone and regular textures and also two finishes (apart from the recent mentioned variants) – non-slip and nature, Ardesia is a perfect choice for your bathroom floor & wall tiles.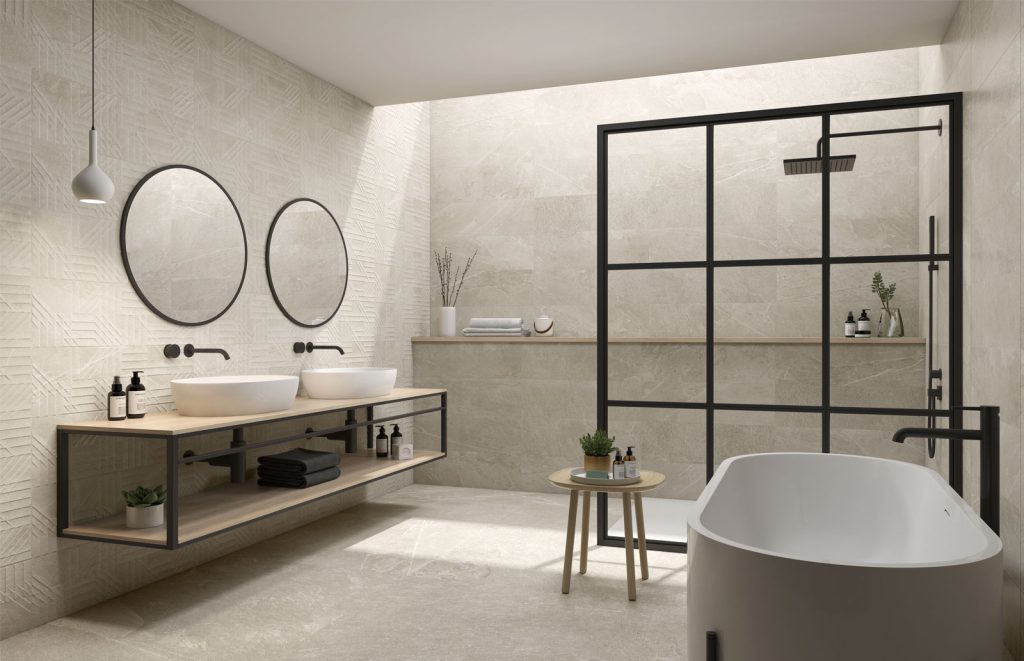 As evident by the name, the Oasis series tiles, its tropical collection looks hand-printed, and Aquamarine tiles to give you an ocean-side feel in your walls & floors. The hexagon tiles gracefully crafted will make nature an integral part of your home. The Oasis tiles range is De-toned with matt finish for your walls and your bathroom floor and adds a comforting feel to your restroom. If you want to make a corner of your bathroom special – then Oasis is the best choice of tiles to have.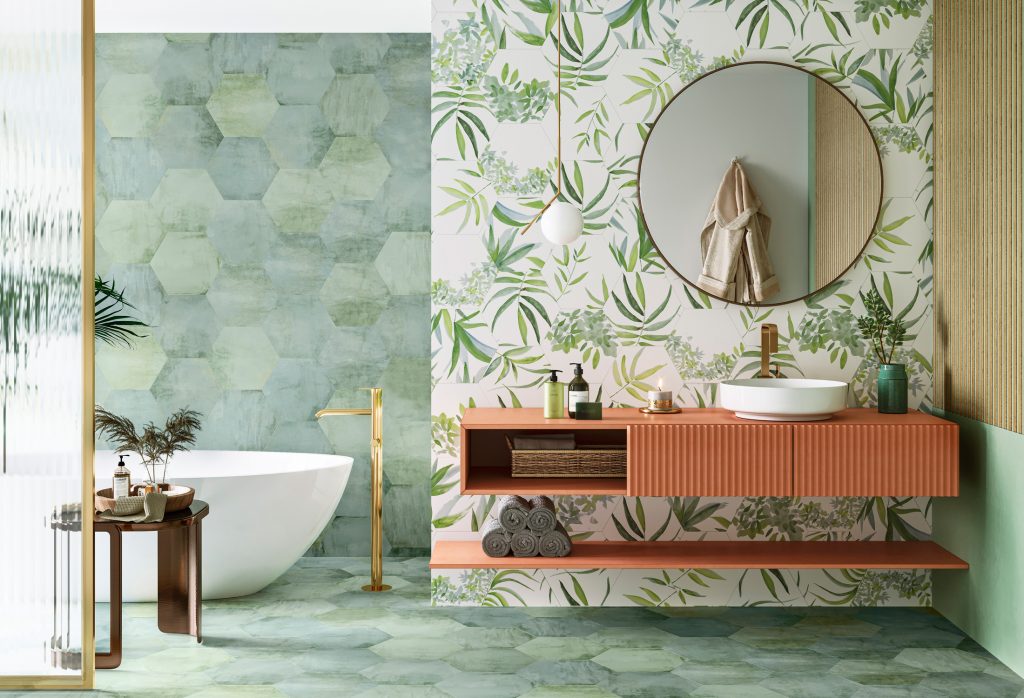 The Geometric 501 range of bathroom tiles with its shiny look and 600mm x 300mm size is a pleasant ceramic wall tile option for your bathroom. Cube motifs make it look contemporary and provide it sophistication and versatility. These are easily the best tiles to help you with a cheerful day ahead. Its Inspired from mosaic style with wide grout lines gives the shower floors of your bathroom a contemporary look. These tiles are an excellent option for backsplashes, insets, and accents of your bathroom. These tiles are available in three neutral variations, grey, white & Black 501 Ceramic tiles are durable and it is a cost-effective option for your bathroom.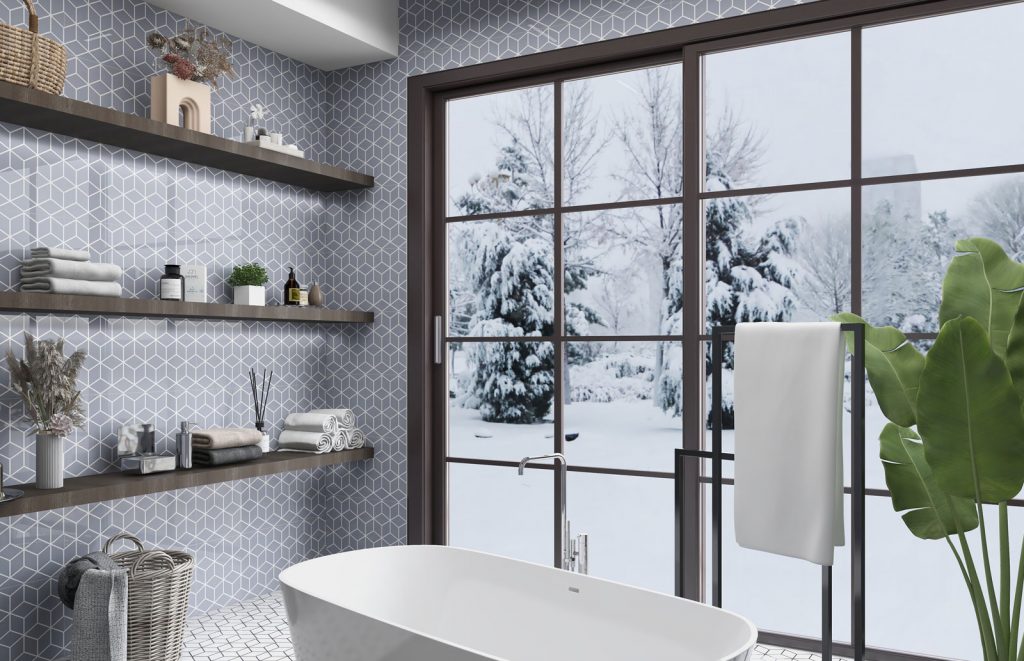 Having planned bathroom renovation?
The amazing range of ceramic floor and bathroom tiles from Timex Ceramic the best ceramic tiles company in Mumbai is known to transform your bathroom into a place you can relax and rejuvenate and help yourself begin your day with a smile. For Project Enquiries, you can connect with us on Email ID: info@timexceramic.com or on Call/WhatsApp on +91 93237 77787